Live like a local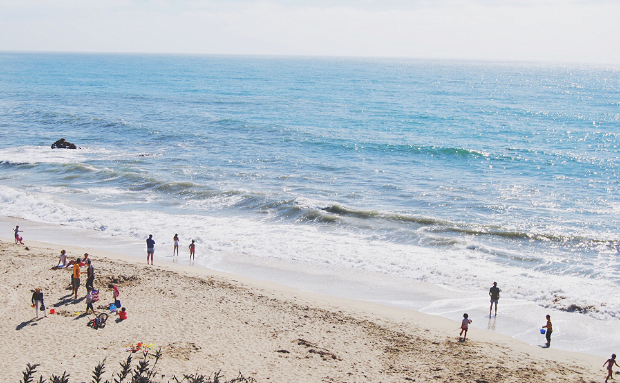 So, you've heard that Cape Town's Table Mountain, beaches and wine farms are the things bucket lists are made of. While the locals won't refute
So, you've heard that Cape Town's Table Mountain, beaches and wine farms are the things bucket lists are made of. While the locals won't refute those facts, we'll also tell you there's more to this glorious city than what the guidebooks reveal…
Because, while many tourists are traipsing through those tourists traps, it's the locals who are living their best lives at the many local (not-so) hidden gems around Cape Town.
Luckily you don't need to look for a new guidebook to get the inside scoop to the Mother City… Over the next few instalments we'll let you in on where exactly the locals go to eat, drink and play. Here, in our first part, we explore all the fun things locals do, and that you should too…
SOAK UP THE SUN LIKE A LOCAL
Muizenberg Beach is the kind of place we'd imagine the Beach Boys were thinking about when they wrote Good Vibrations: its golden sand, alluring warm waters and laid-back environment has made this quaint little seaside town the home of the Cape Town's surfing community – every day, locals and tourists gather around Surfer's Corner (the name of the beach front area) to soak up its spectacular surf. And for those who still need to learn how to ride the waves, lessons from South Africa's top surfing school LEARN 2 SURF will come in handy – especially as your fees will help the school's development program where disadvantaged kids are taught how to surf and, so, introduced to a healthy outdoor lifestyle.
But there's more to Muizenberg than just surf: the area is seasoned with bookstores, galleries and fantastic restaurants that draw locals in daily for breakfast, lunch or dinner – Tiger's Milk Restaurant at Surfer's Corner, in particular, is loved by locals for its cool yet elegant setting, great food and breathtakingly beautiful beach backdrop.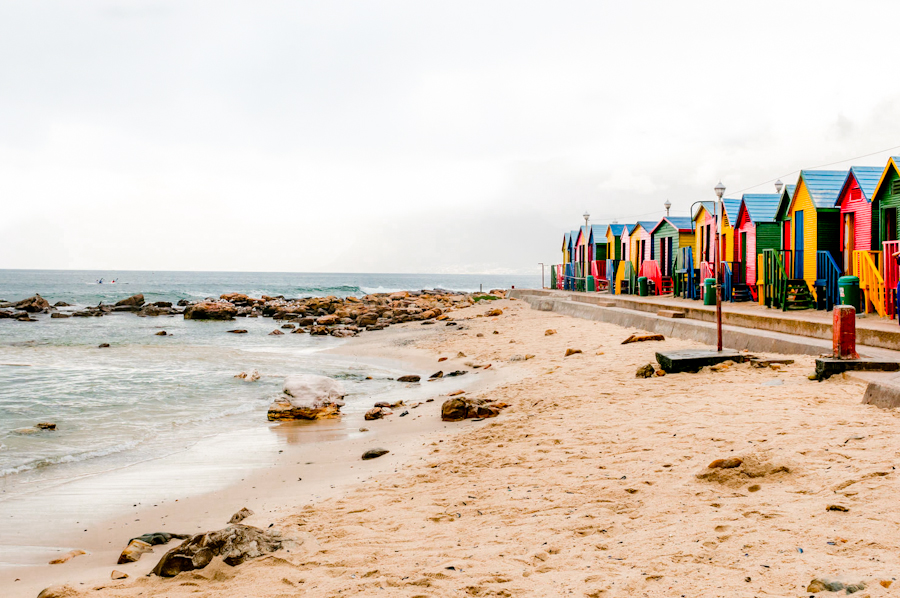 A short walk from Muizenberg Beach lies St James Beach where it's colourful beach huts, warm tidal pool, soft sand and surrounding Victorian homes are popular with young and old. Interestingly, St James was named so as result of the railway that runs through it: in the early 20th century, travellers who would come to visit the St James Catholic Church would ask the train to stop at 'St James'; the name soon caught on and would later give this little village a permanent stop with a dedicated station. Today, this same railway line is operational and is one that many Capetonians travel on to get to St James Beach– needless to say, a train ride from Cape Town City Centre to St James for travellers should come as a requirement, especially to watch the carriage weave through the urban skyline to this calming coastline.
For those who want to get their Vitamin D fix without venturing too far from the city centre, Clifton 2nd Beach awaits. Unlike Camps Bay, locals know that cliffs surrounding this beach offers protection from Cape Town's often unpredictable wind. More so, the soft white sand and turquoise waters (albeit, a little chilly) offers a great setting for locals to bronze their skin, enjoy a game of volleyball and/or to to play a game of beach bat and ball. Don't leave before trying one of the 'lollies to make you jolly' (granadilla ice pops) sold by the many charismatic vendors on the beach – these ice pops are an institution with locals!
BE ENTERTAINED LIKE A LOCAL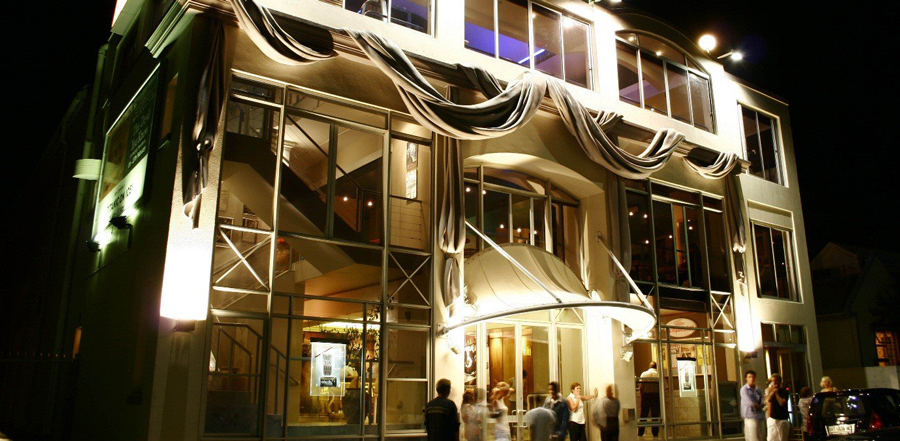 On any given night in and around Cape Town, there are a number of theatres teeming with locals who are catching the city's latest plays, productions and comedy shows – usually over good food and fine wine.
Theatre on the Bay, situated just a few meters from the magnificent Camps Bay beachfront, is not your ordinary playhouse: it features a restaurant on the first floor, where guests can enjoy a magnificent three course meal and catch a theatrical sunset over the Atlantic Ocean before their show. And while it also offers a stylish and intimate theatre experience (the hall holds a maximum capacity of 260 people), Theatre on the Bay has become renowned for its big, world-class productions that could easily give Broadway a run for its money. Make sure you catch its current production of Joseph and the Amazing Technicolor Dream Coat – it's back for a second season due to local popular demand.
In the heart of Cape Town's District 6 area lies the Fugard Theatre. Named after the country's most acclaimed and internationally renowned playwrights, Athol Fugard, it's renowned with locals for showcasing proudly South African productions. The theatre is housed in two historic landmark buildings: the Sacks Futeran building and the renovated Congregational Church Hall; and its layout is based on that of Shakespeare's Global Theatre – meaning that no matter where your seat is, you'll have a great view and will enjoy great acoustics. There's also a rooftop bar and a cosy indoor bar where you can join locals for a tipple or two before and after a show. Lastly, for those who want to enjoy Cape Town's finest cuisine, try one of the great restaurants in the area – check out the Fugard Theatre's recommendations here.
HIKE LIKE A LOCAL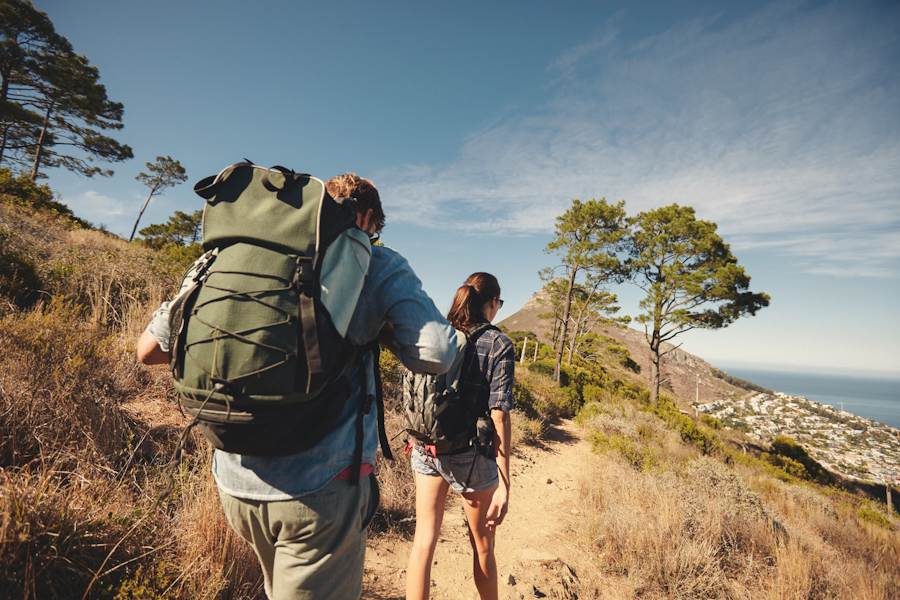 Capetonians are known for their active lifestyles and for their love of the great outdoors – and with this city's awe-inspiring natural beauty, it's understandable why!
The Pipe Track is one of Cape Town's oldest trails, dating back to 1887 when a service pipeline was built to bring water from Table Mountain to the Molteno Reservoir further down in the city. The walk to starts near the foot of Table Mountain and follows the Twelve Apostles section of the mountain. It is loved by locals for its easy-to-walk terrain and incredible (and we mean: INCREDIBLE!) views of Lion's Head and Camps Bay, as well as its pathway that's filled with indigenous shrubbery called fynbos and Proteas. Locals are often seen gawking at the flora, so don't be surprised if you're mesmerised too.
For something a little more challenging but still enchanting, try another local favourite: Constantia Nek Hike. It begins with an easy walk through Constantia forest, then veers up towards the mountain where magnificent views of False Bay meets you. Follow the path way until you reach the Woodhead and, further along, Hely Hutchinson Dams – these dams were built in the late 19th century and, today, are Cape Town's oldest reservoirs (there's even an interesting museum to visit near the Woodhead Dam). These dams also make for tranquil setting where you can enjoy a lazy picnic and cool down after your hike. If you're walking the trail between November and February, look out for red Disa flowers – an orchid indigenous to the Western Cape.
Finally, Silvermine area, which surrounds the Ou Kaapse Weg (a pass running through the Steenberg Mountains), is one of Cape Town's oldest established nature reserves. It all began in 1675 when it was believed that the area contained silver. However, when shafts were built to locate the silver, nothing could be found; but the name, Silvermine, stuck. Today, locals enjoy and explore this expanse for its unspoilt beauty (void of mines – hallelujah!) and its plethora of different options. The most popular walks are the Silvermine River Walk, where hikers follow an easy-to-walk path next to a river up to the reservoir – perfect to picnic and cool down at on a hot summer's day. Alternatively, try the Elephant's Eye Trail: a slightly more challenging walk that leads past Silvermine's Waterfall to a cave called Elephant's Eye, where one can soak up unrivalled views of False Bay.
Now, we have to ask: which one are you most excited to try first?
Don't forget to check back for our next blog where we give you the inside scoop to where the locals shops.