All you need to know about Cape Town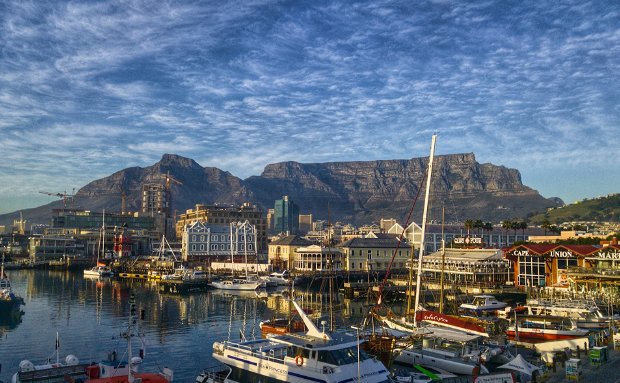 All it takes, is one look from anywhere in Cape Town to understand why this city has won numerous travel awards – like being the most beautiful city in the world or a top rated culinary destination.


There's the legendary Table Mountain with its neighbouring peaks – Devil's Peak and Lion's Head – that dramatically decorate the Cape Town skyline. There's the city's multifaceted heritage that dates back over the last 300 years and has given rise to some of the most beautiful historical buildings in the country. Cape Dutch homesteads, neo-Gothic churches, Muslim minarets, and Georgian and Victorian buildings are all dotted across the city.

If history is a subject that interests you, you're in for a treat. The Castle of Good Hope is the oldest existing colonial building in South Africa, having been built between 1666 and 1679. Interestingly this bastion fort, in the epicentre of the city, marks the original shorelines of the city (land was reclaimed from Table Bay's coastline between the 1930s and 1940s to extend the foreshore area). The Company's Garden is another gem within the city and dates back to the 1650s when the first European settlers used it to grow fresh produce to replenish ships passing by Cape Town. West of the Castle of Good Hope, you'll find Cape Town City Hall – an Edwardian building built in 1905 and the place from which Nelson Mandela made his first public speech after his release from prison on 11 February 1990.

Other highlights include: Bo-Kaap, a colourful, cobbled stone neighbourhood situated on the slopes of Signal Hill, which is the historical centre of the Cape Malay culture in the city. The District Six Museum, founded in 1994 in remembrance of the thousands of people who were forcibly removed from their homes in the District Six Area (where the museum is located) during the Apartheid era and St George's Cathedral, the oldest cathedral in Southern Africa.

The city is home to an array of wonderful bookshops (The Book Lounge, an independent bookstore, is worth a visit), antique and vintage clothing stores (stop by Afraid of Mice in Long Street), a bustling nightlife along Long and Kloof Streets, and some of the best restaurants in the country and the world (Bree Street is filled with delectable eateries serving mouth watering dishes).

Visit
The South African Museum
Planetarium
The South African National Gallery
The Slave Lodge
St George's Cathedral
Bo-Kaap Museum
District Six Museum
The Castle of Good Hope 
The South African Jewish Museum
The V&A Waterfront - Two Oceans Aquarium
Robben Island
Helicopter Rides
Hiking Table Mountain 
Visit False Bay by train
Eat
Aubergine
Bistro 1682
Carne on Kloof
Casa Labia
Chefs Warehouse at Beau Constantia
Chefs Warehouse at Titswalo Atlantic
De Grendel
Fyn
Gold
Harbour House
Kloof Street House
Kyoto Garden Sushi
La Colombe
Quentin at Oakhurst
Salsify
SeaBreeze Fish & Shell
The Butcher Shop & Grill
The Greenhouse
The Pot Luck Club
The Shortmarket Grill
Beaches
Clifton Beaches: Clifton is made up of four coves, aptly called Clifton 1st, Clifton 2nd, Clifton 3rd and Clifton 4th; these beaches are also well-sheltered from Cape Town's famous South Easter Wind. Clifton 4th is the busiest and well-suited for families – although, it's important to note that the beaches are only accessible via stairs leading down from the road. There are vendors selling drinks, snacks and ice-cream roaming the beaches. Deck chairs and umbrellas are available to rent.
Camps Bay: Less than a kilometre away from Clifton 4th lies Camps Bay Beach. The road running past it is lined with cafes and restaurants, for those who want to enjoy lunch or a cocktail. Camps Bay is generally considered more family-friendly as its easily accessible and provides larger space for children to run and play. Deck chairs and umbrellas are available to rent.
Llandudno Beach: Further along the coastline lies one of the most beautiful beaches in Cape Town – locals regularly flock here for non-alcoholic sundowners (note that it's illegal to bring and consume alcohol on Cape Town beaches). Like Clifton, there are no shops around but vendors do walk the beach with snacks, drinks and ice cream for sale. Deck chairs and umbrellas are available to rent.
Hout Bay: Originally a small fishing village, Hout Bay features a traditional harbour, many restaurants and curio shops. The beach is flanked by the harbour on one end, and the cliffs of Chapman's Peak on the other. It's a popular spot amongst windsurfers, paddle skiers and surfers. Unfortunately, there are no deck chairs and umbrellas for rent.
Noordhoek and Kommetjie: The gloriously scenic drive over Chapman's Peak will bring you to the long shore of Noordhoek Beach. It's loved by locals for long walks, horse-riding and various water sports. Further along lies Kommetjie Beach, a small beach village popular for surfing. Unfortunately, there are no deck chairs and umbrellas for rent.   
Muizenberg: The sandy beach is extremely long, and has plenty of space for the children to play. The beach has a miniature golf course and a waterslide, providing more family fun. It's only the far end of the beach – near Surfer's Corner and where a number of cafés are situated – that's popular with the surfers. Unfortunately, there are no deck chairs and umbrellas for rent.  
Fish Hoek Beach: Between Muizenberg and Simon's Town lies Fish Hoek Beach. This stretch of coast is a favourite among locals, particularly those with small children. It offers plenty of play space, as well as rock pools for kids to frolic in. Unfortunately, there are no deck chairs and umbrellas for rent.  
Boulders Beach: Past Simon's Town, lies Boulders Beach and it's here that you'll find the African Penguin. The beach itself is small and is made up of little coves surrounded by large boulders. This creates a number of small rock pools – ideal for swimming and exploring with the little ones. Note that an entrance fee is charged, and a small shop and restaurant can be found alongside the parking area at the top of the beach.
The Strand: This beach offers a long stretch of sand, popular with families as the water is warm and relatively shallow. There's a tidal pool for those who are cautious about the water, as well as a water slide park for those who are feeling adventurous. The road running past this beach is lined with many restaurants, drinking spots and ice cream cafés. Access to the beach is very easy.
Gordons Bay: Set in a sheltered bay with rock pools to explore and a promenade for walking, it's often referred to by locals as a mini Monto Carlo as the ocean is framed against a backdrop of exquisite mountains. Bikini Beach, nestled against the Gordon's Bay harbour wall, is sheltered and provides a great sunbathing location. There are plenty cafés, restaurants and ice-cream parlours – perfect to visit after a fun day in the sun.
Fun for the whole family
Artjamming
Cape Town Science Centre
The Company's Gardens
Rent a Bike 
Shopping
Avoova
Bay Harbour Market
Cape Cobra
Cape Quarter
Cavendish Square
Canal Walk
Greenmarket Square
Heartworks
Long Street
Merchants on Long
Neighbourgoods Market
Oranjezicht City Farm Market
Pezula Interiors
Watershed
V&A Waterfront
Golf courses in and around Cape Town 
Royal Cape Golf Club
Steenberg Golf Course
Art Galleries in and around Cape Town 
AVA Gallery
Everard Read Gallery
The Kalk Bay Modern 
The Zeitz Museum of Contemporary African Art 

Safety & Security in and around Cape Town 
The Tourism Safety Task Group of South Africa has compiled the following tips for tourists who come to the country:
At the Villa -
Store valuables in the safe. 
 Keep the house locked, whether you're in it or not. If someone knocks, check who it is before opening the door.
In the street:
Avoid ostentatious displays of expensive jewelry, cameras and other valuables
It's definitely not advisable to carry large sums of money around
At night, steer clear of dark, isolated areas
It's better to explore in groups and to stick to well-lit, busy streets
Plan your route beforehand
A policeman or traffic officer will be glad to direct you if you get lost
If you want to call a taxi, your hotel or the nearest tourism information office can recommend a reliable service
In the car:
Plan your route in advance
Keep the car doors locked at all times and wind the windows up
Lock valuable items in the boot (trunk)
At night, park in well-lit areas
Never pick up strangers
If in doubt about the safety of an area, phone a police station for advice
In general we advise people to carry a reliable map with them at all times and to keep a certified copy of passports and other important documentation such as flight tickets in a safe.