Where the locals enjoy a tipple or two
If there's one thing that Capetonians will proudly boast about to any visitor, it's that there's no shortage of watering holes here; and there is
If there's one thing that Capetonians will proudly boast about to any visitor, it's that there's no shortage of watering holes here; and there is one for every occasion.
So, if you're thirsty for fine wines, cool cocktails or other delicious drinks (and snacks), then check out our list of Cape Town's best bars, lounges, taprooms and wine farms – locals love them and our visitors to The Mother City certainly will too.
PRE-DINNER DRINKS
 The Stack
From its glorious fountain entrance and the opulent bar to its theatrical cocktails, extensive wine list and cool, cosy ambience – everything about The Stack will make you want to stay for more than just one drink.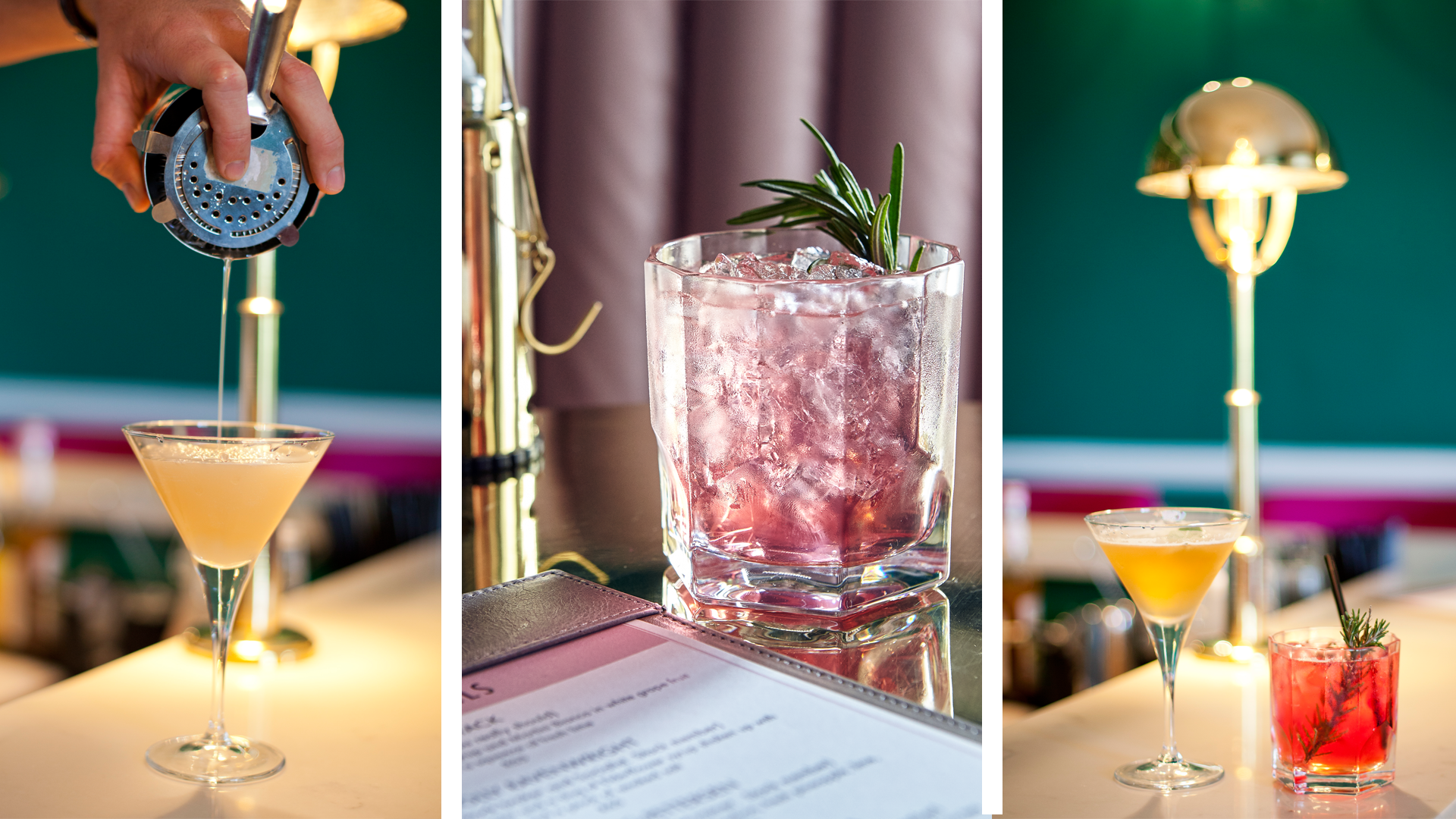 This grandiose Brasserie and Bar originally opened its doors in 2015, but was sadly ravaged by a fire just days later. Fortunately, owners (and husband and wife) Nigel and Sarah Pace didn't let it stop them – for nearly a year they worked at restoring and rebuilding the 160-year-old Victorian house that, today, again is home to The Stack.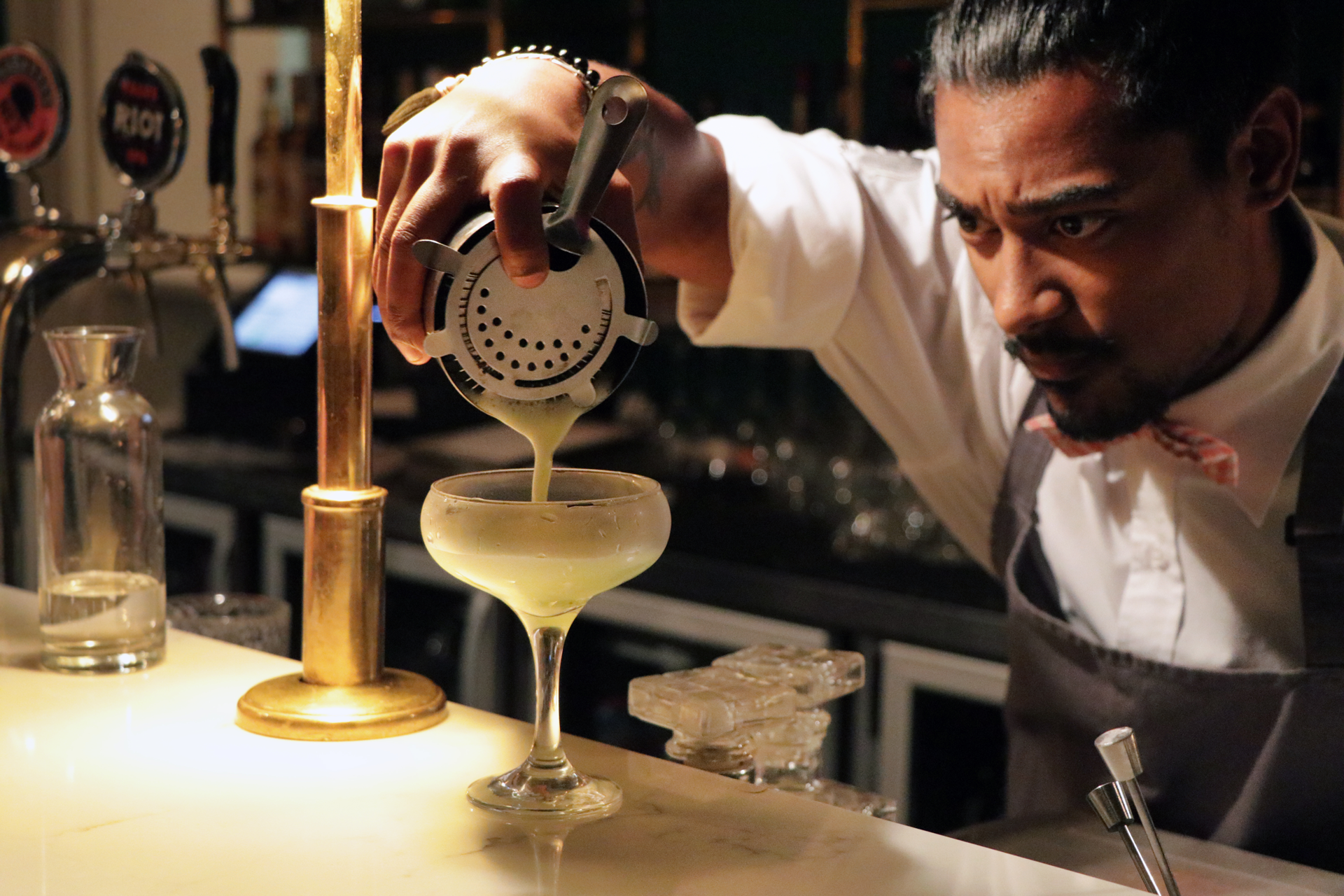 Locals visit for after work drinks, second dates, to meet with prospective clients or to toast a special occasion; some even stay to enjoy dinner with a French flair at The Brassier. If you're only popping in for a drink, make sure you order their Smoked Negroni – it's the stuff that Tom Cruise's character in the 80s film Cocktail dreamt about.
The Secret Gin Bar

Hidden in a rustic, exposed redbrick courtyard in the centre of Cape Town's bustling CBD area, lies a little gem: The Secret Gin Bar. The bar, however, is no longer really a secret, especially with Cape Town's gin connoisseurs.
Their menu feature four speciality gin cocktails, which are made with ingredients that focuses on the wellbeing of your Head, Heart, Ambition (Spirit) and Soul. If you're a gin purists, the bar offers a few craft gins and premium tonic waters for your mixing pleasure – the owners believe that the mixer is as important as the spirit that you blend it with.
You'll also be tempted to grab something wholesomely sweet from Honest Chocolate café on your way in (guests to the Secret Gin Bar gain access by walking through this artisanal chocolate shop). Their products are made from quality organically produced ingredients, and are the definition of "pure" chocolate! Worth every single calorie.
The Silo Rooftop Bar & Restaurant
If you're looking to enjoy sun-downers with an impressive view, then the Silo Rooftop Bar & Restaurant offers exactly that: a 360 degree outlook over the Mother City; from Table Mountain right around to the Atlantic Ocean.
This glorious rooftop bar is part of Cape Town's newest premium property, The Silo, which is housed in the grain elevator part of the city's former silo complex. Interestingly, when the original Grain Silo Complex opened its doors 1924, it stood 57m tall and was labelled, then, the tallest building in Sub-Saharan Africa. Today, it's home to an exclusive hotel, five star restaurant and, of course, this breath-taking rooftop bar.
Locals are also eagerly anticipating the opening of Zeitz Museum of Contemporary Art Africa (MOCAA) in September this year. Rumours has it that Zeitz MOCAA will rival the Tate Modern in London and the MoMa in New York. Needless to say that The Silo is set to become one of the city's most iconic hangouts.
Please note that you need to make a reservation to access and enjoy the Silo Rooftop Bar & Restaurant. Make your booking at least 24 – 48 hours prior to your visit and contact them on +2721-670-0500.
POST-DINNER TIPPLE
Bascule Bar 
There's just something about sinking into a comfy seat next to a crackling fire while sipping on fine whiskey after a good meal. If this sounds like your kind of post-dining dream, then Bascule Bar at the Cape Grace Hotel is a place you need to prioritise a visit to while in the Mother City.
Situated on the water's edge at the famous yacht marine at The V&A Waterfront, whiskey lovers will be in awe of the more than 500 whiskies that Bascule Bar has on offer – connoisseurs will be impressed to know that they even stock The Glenfiddich 50-year-old (although, it comes with a price tag close to R20 000 per tot). Bascule Bar's also offers an exclusive whiskey tasting for avid whiskey fans or novices who want to try some of the world's finest whiskeys.
For those who don't enjoy the golden nectar of whiskey, don't worry! Bascule Bar is also well stocked with some of Cape Town's finest wines. So there's no reason not to visit.
Please note that you need to call ahead for a Bascule Bar's exclusive whiskey tasting. Contact them at least 24 – 48 hours prior to your visit on +2721-410-7082. 
The Piano Bar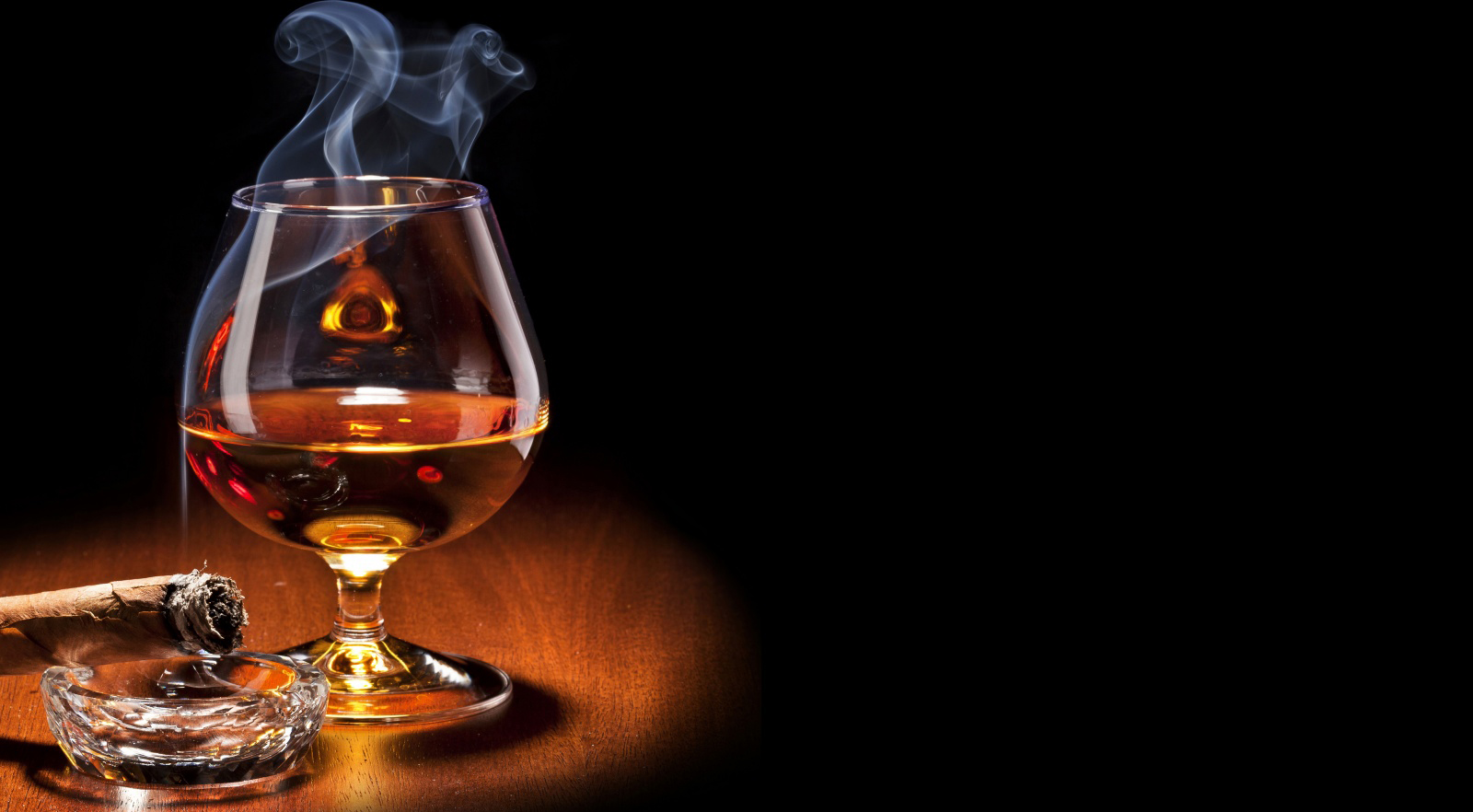 Tucked way among the cobbled streets of Cape Town's quaint De Waterkant Neighbourhood, locals and tourists can be found at The Piano Bar on any given night of the week. This revue bar best described as a melodic mix of New York's 1920's swinging-jazz clubs and the soulful Afro Jazz hangouts of 1940's Johannesburg.
As you might derive from its name, the Piano Bar is home to a Regal Baby Grand Piano, which becomes the main attraction every night during the bar's live music events (yes, there's live Jazz-inspired music seven days a week). Their cocktail menu is also classically on point. Their old-fashioned mojito is their bestseller but they also feature drinks with a modern twist – try their strawberry and basil inspired Piano Rose cocktail for a little adventure. If cocktails aren't your choice of drink, then their selection of single malts pair well with the classic Cuban cigars they sell – we can't think of a better way to sit back and enjoy live jazz.
BEST ENJOYED DURING THE DAY
Beau Constantia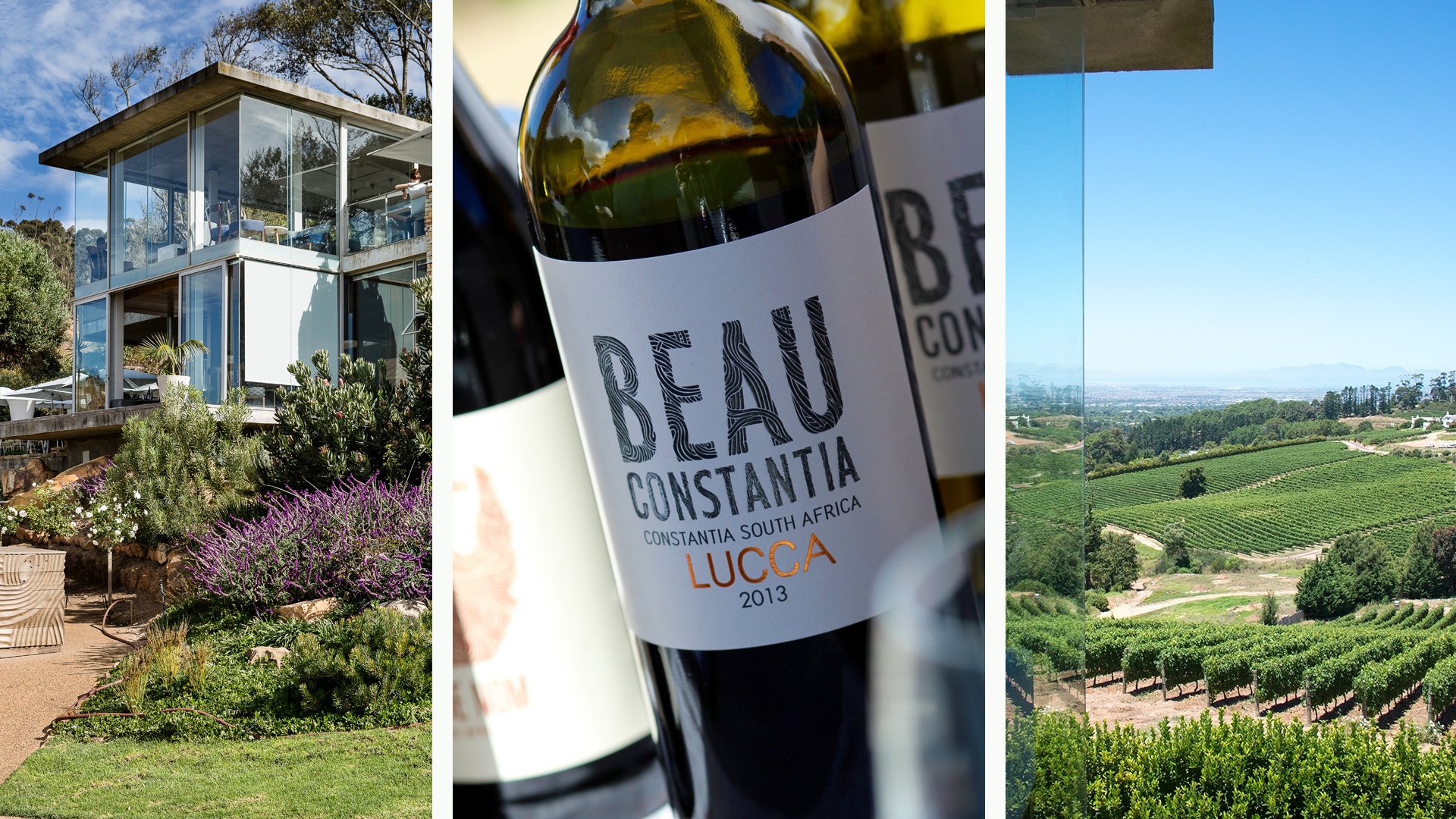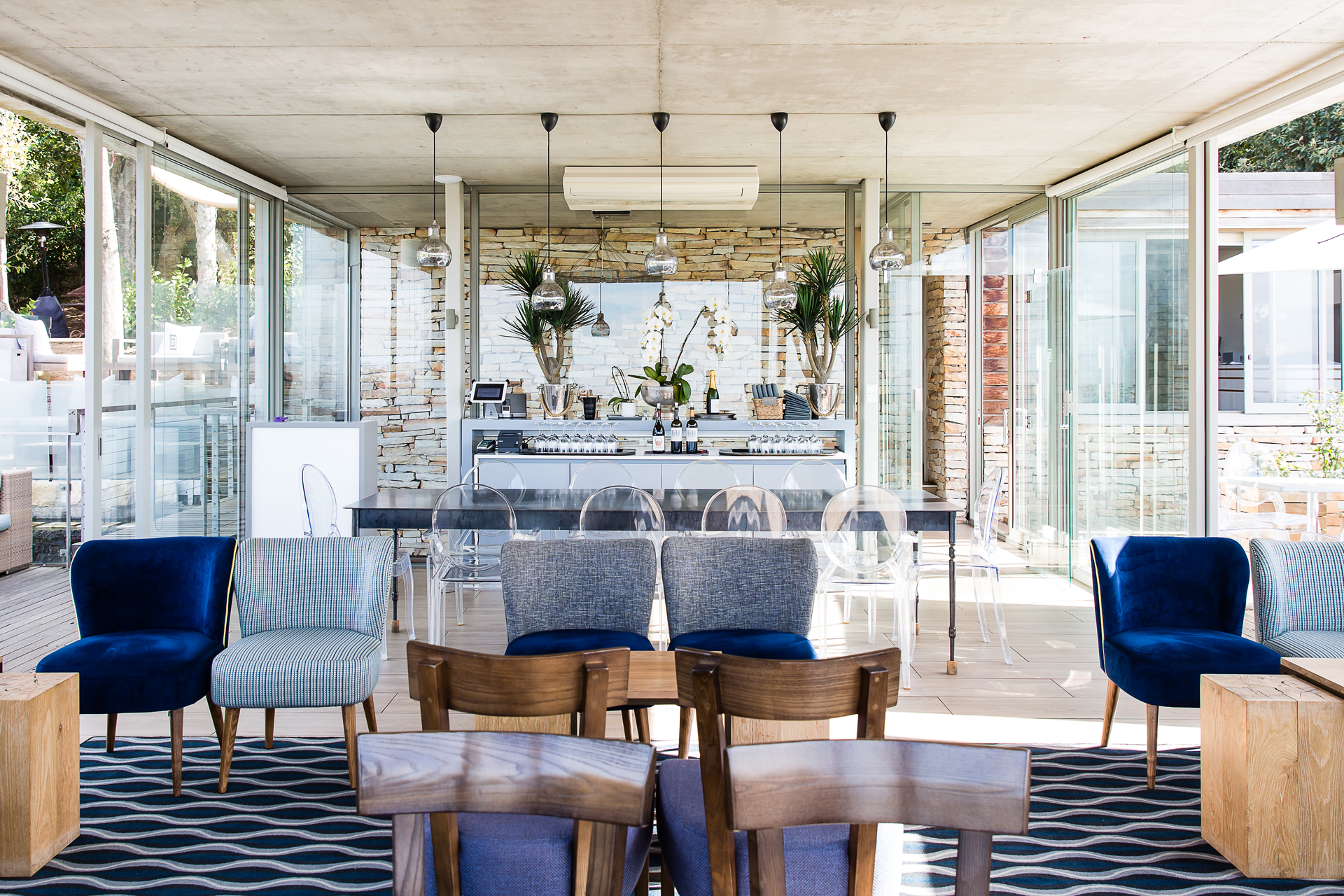 While Capetonians are spoilt for choice when it gets to wine farms, there are a few that have simply won the hearts of locals and see them return time and time again. One of these farms is Beau Constantia on top of Constantia Neck. And it's easy to see why: for starters, their tasting room is designed to look like a glass box that's suspended over the Constantia Valley – needless to say it's view often leaves visitors gasping in awe. It's also here that visitors can sit back and enjoy tasters and of full glasses of Beau Constantia's selection of award-winning wines – it ranges from robust reds to light whites, bubbles and there's even a Beau Constantia Gin to try.
The estate is also the home of Chef's Warehouse – a tapas style restaurant founded by one of South Africa' s legendary chefs, Liam Tomlin. So, if great food, great wines and great views are your idea of a perfect afternoon, then make a reservation now.
Please note that you need no reservation is required for Beau Constantia's Tasting Room, but booking at Chefs Warehouse is essential. Make your reservation at least 24 – 48 hours prior to your visit and contact them on +2721-794-8632 (dial extension 1).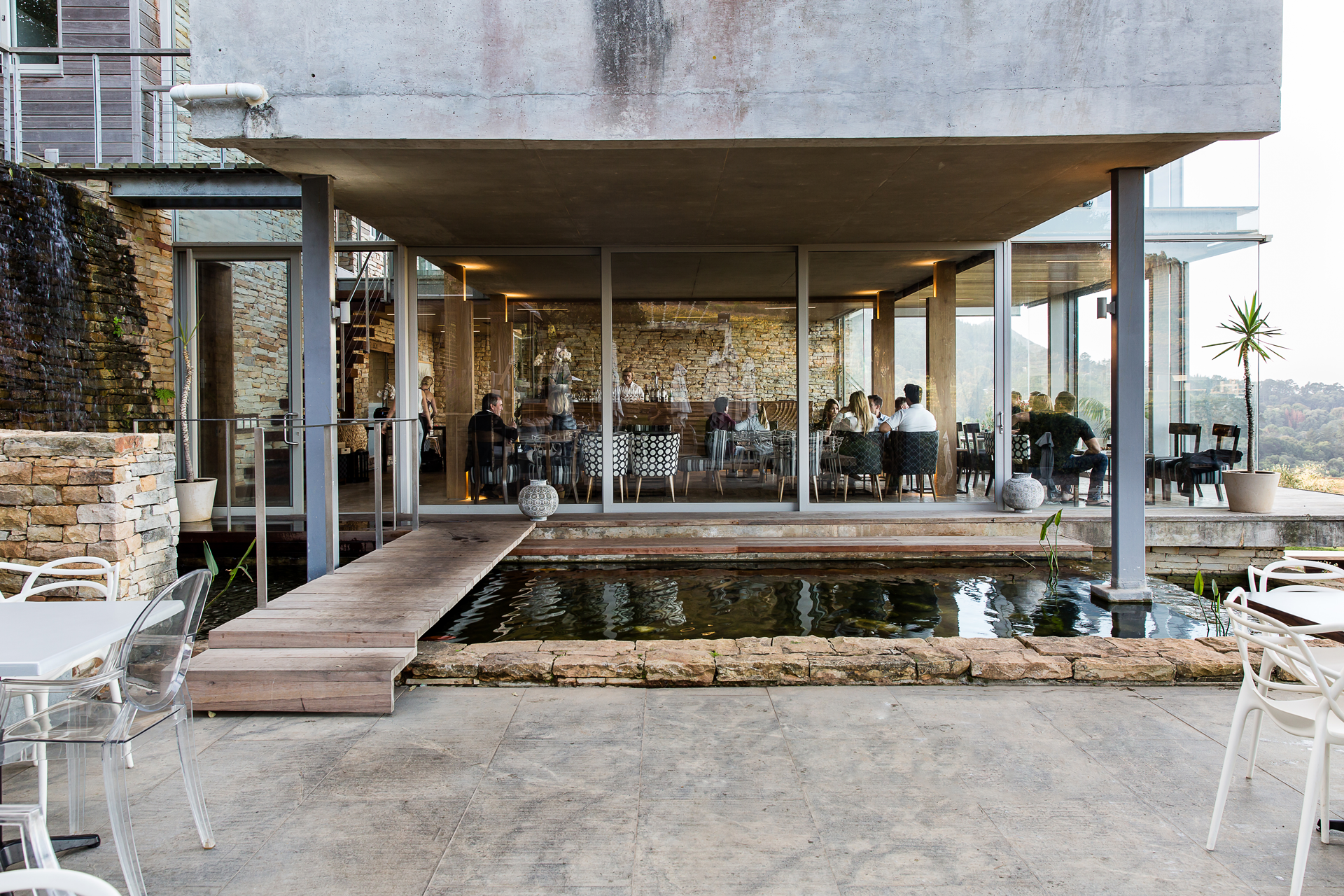 Bistro 1682 at Steenberg Vineyards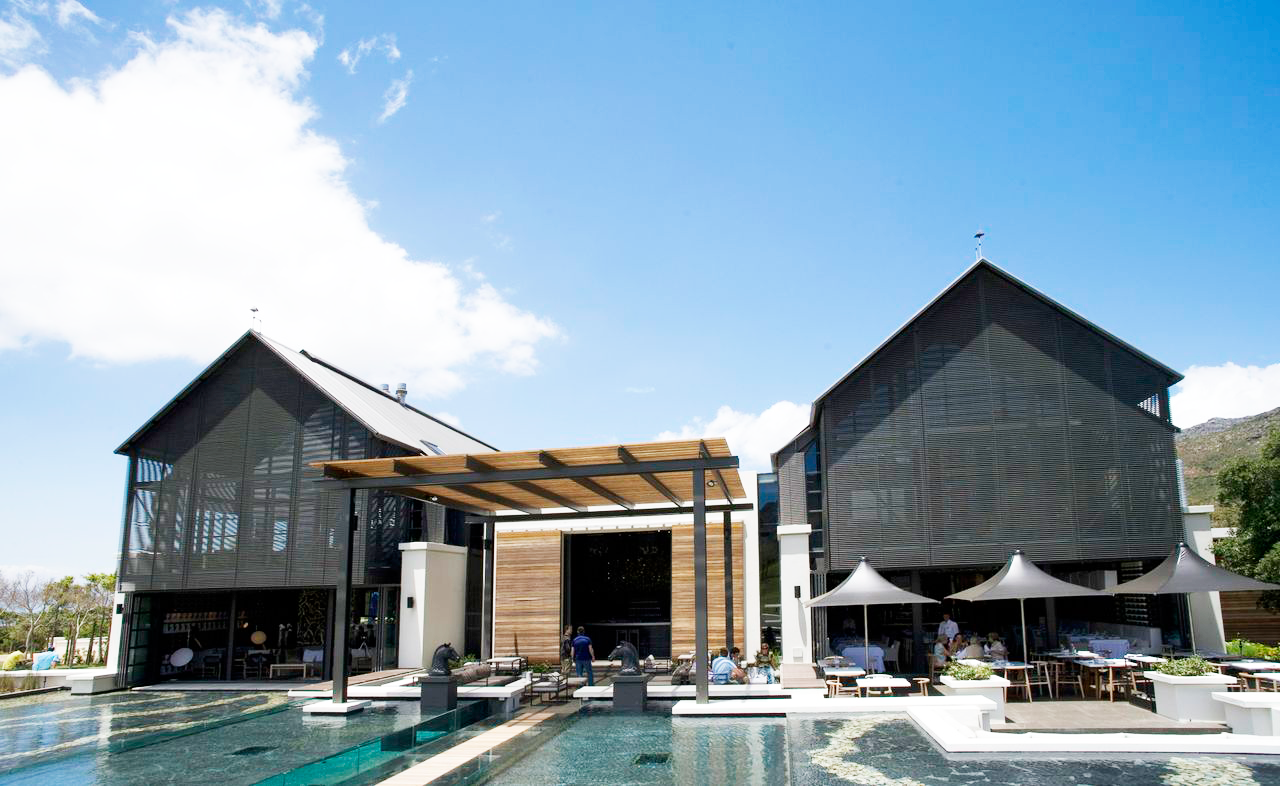 What pairs really well with fine wine? Tapas style food, of course! Which is why locals love Bistro 1682 – especially in the late afternoon when the bistro's tapas menu comes out in full force. And with their seasonal menu, locals return all the time to try any new dishes with their favourite wines.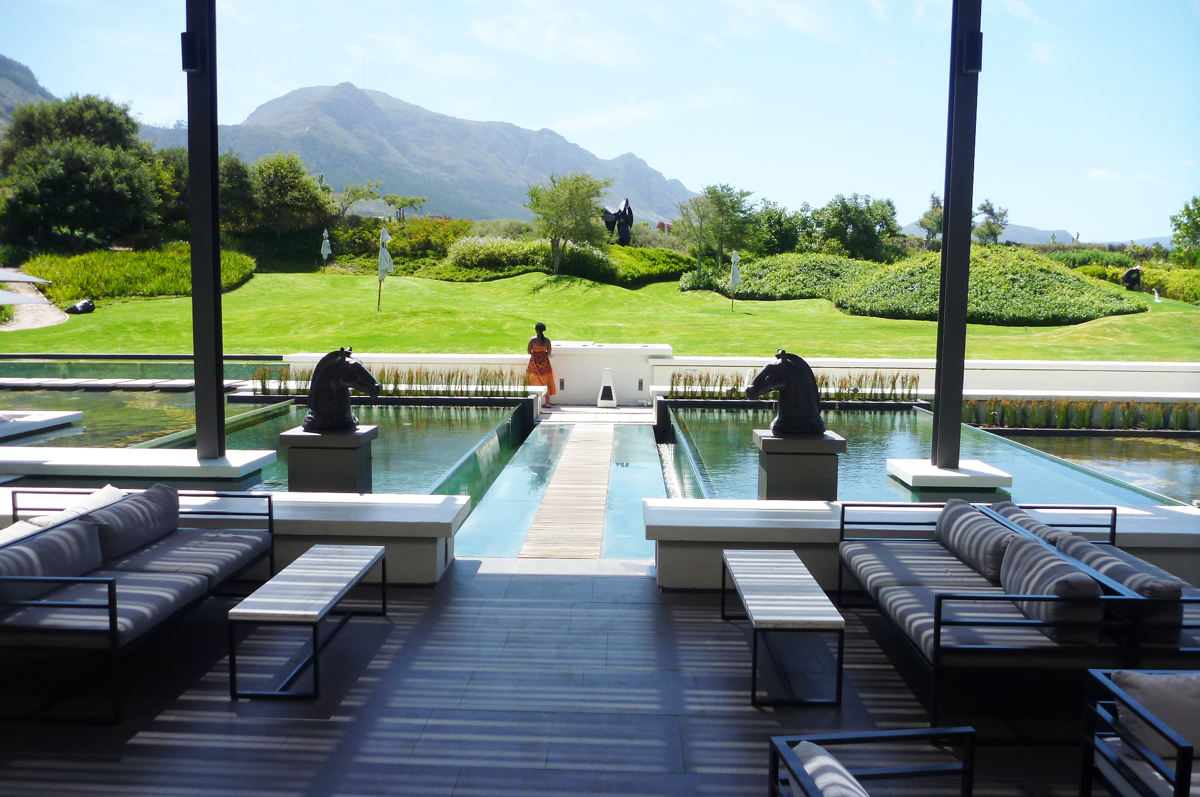 Bistro 1682 is situated on Cape Town's oldest wine farm, Steenberg Farm, which (you guessed it) dates back to 1682. The restaurant, however, only opened its doors in 2009 and brings a chic modern feel to the longstanding farm – the outdoor terrace features an infinity pool and indigenous garden, and is the perfect place to laze on a sunny day; the interior of restaurant is cozy and includes with a deliciously warm fire place that's the ideal spot to snuggle up to on a cold winter's day. More importantly, the restaurant offers some of the estate's best wines – we recommend Steenberg's award-winning sparkling wines; it's perfectly matches any occasion or dish.
ROAD TRIPPIN' SIPPING
Bartinney Wine and Champagne Bar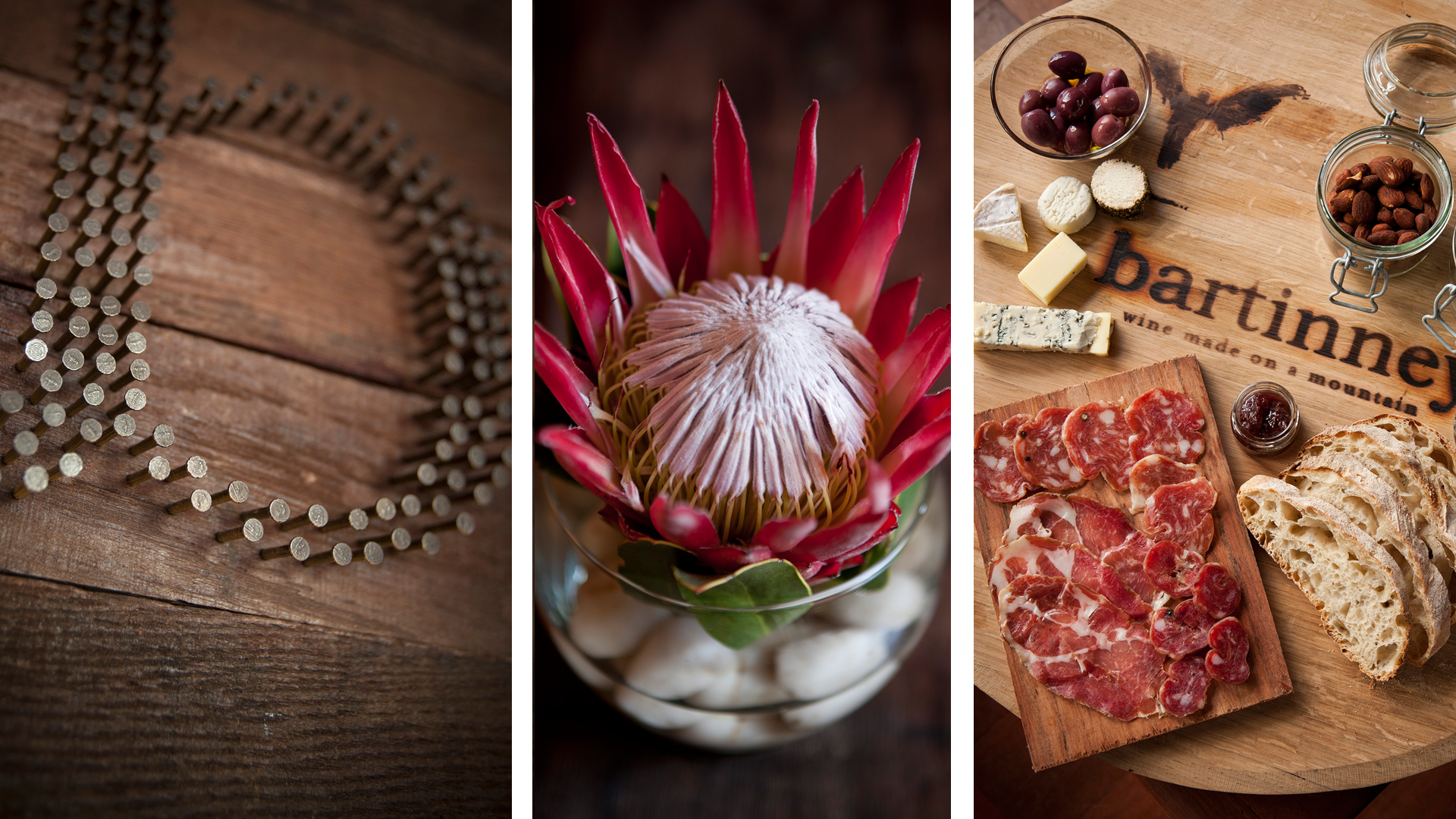 Stellenbosch might be renowned for its wine farms, but locals know that you don't actually need to go to one to enjoy its produce. Case in point: Bartinney Wine and Champagne Bar.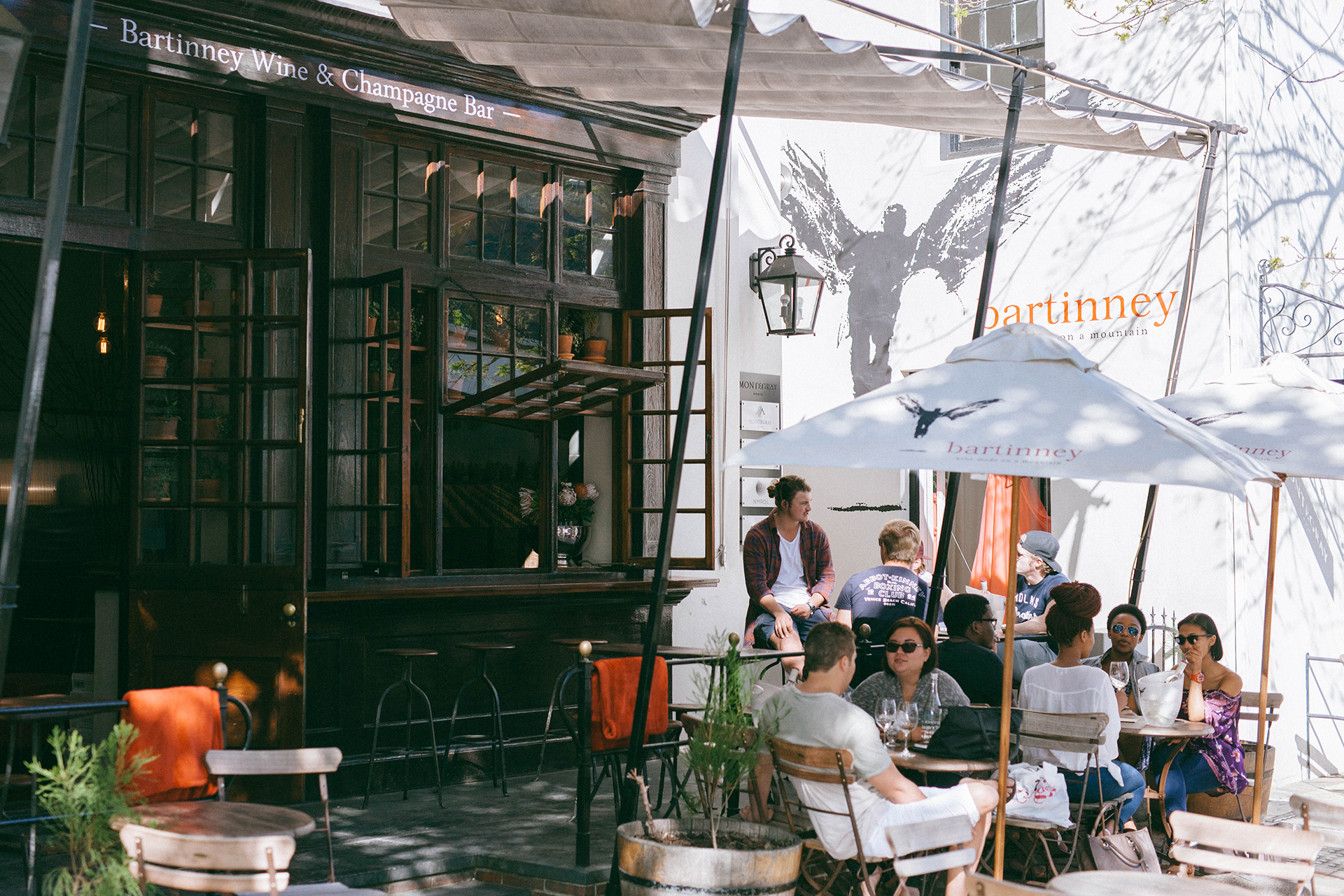 This quaint little bar – with its impressive wooden bar, sleek vintage style décor and spectacular chandelier made from an uprooted Sauvignon Blanc vine – can be found right in heart of Stellenbosch on Bird Street. The aim of their game is to make Bartinney's wines (which is produced on the Bartinney farm just outside Stellenbosch) accessible to by-passers on the street, regulars to the bar, and visitors to the Stellenbosch town.
Another highlight of this bar is that it serves real French Champagne (a treat for any local!) as well as our local version of called Méthod Cap Classique. But it's not just all wine here – they also serve range of craft beers from a Cape Town based brewery called Devil's Peak. And while their snacks are on the light side, it has a distinct local flavour with locally cultivated olives, locally produced cheeses and meats, as well as South Africas' renowned local dried, cured meat called biltong.
The Greenhouse at Babylonstoren
In the middle the R45 (the road that links Stellenbosch to Franschoek/Paarl), one of Cape Town's most enchanting farmlands can be found. We're talking about none other than Babylonstoren. This historic Cape Dutch farm dates back to 1692, and today is one of the top preserved farmyards in the Cape.

The big attraction of this farm is its majestic garden – it spans over 3,5 hectares and features fruit and vegetables gardens, bees for pollinating, a prickly pear maze, fragrant lawns, ducks and chickens and a stream where thousands of clivias flower each year in September.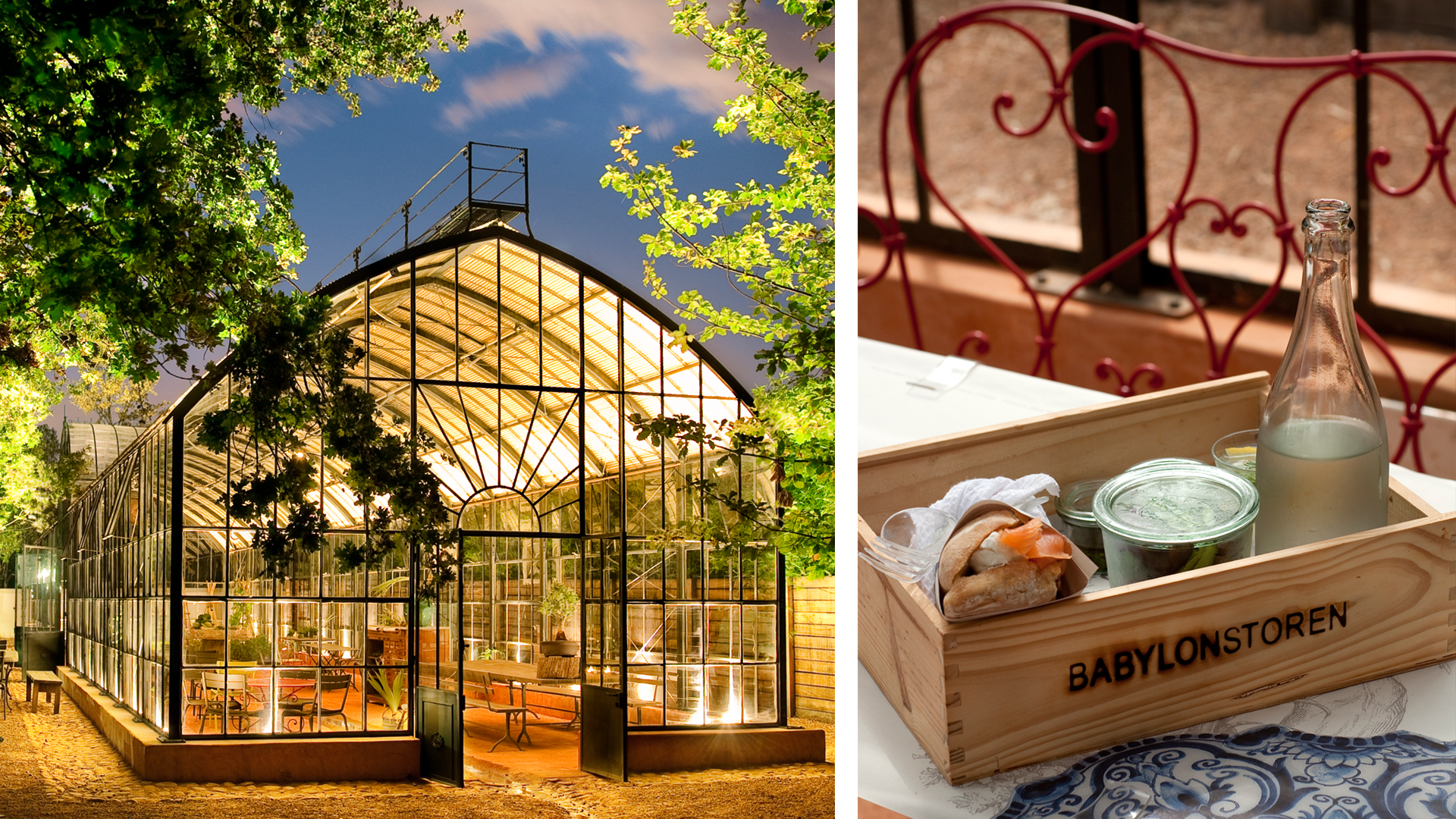 But the real gem, as locals will tell you, is The Greenhouse restaurant tucked away at the back of the garden – as the name suggests, it's a green house that also operates as a restaurant. And while it traditionally serves home-baked cakes, coffee and tea, it's also a perfect spot for a little day drinking as it offers a variety of Babalyonstoren Wines. These are perfectly paired with The Greenhouse's artisanal breads, handcrafted cheeses, cold meats, preserves and cool, greenery setting.
Creation Wines
Creation Wines is located in the spectacular Hemel-en-Aarde Vallei (meaning: Heaven-and Earth Valley) just before the seaside town of Hermanus – a scenic two hours' drive from Cape Town. And this is also not your average wine farm: it's a won national wine tourism awards for originality and innovation in wine making, and has set itself up as a foodie destination with their delectable food and wine pairings – each week the chef sets up a new three-course pairing menu that showcases fresh seasonal dishes that perfectly matches their wines.
For early birds who are after a unique experience, Creation Wines' Brunch Pairing comes highly recommended. It features eight breakfast-themed tapas dishes that are perfectly paired with wines from the farm. For those who are simply after a nibble while trying wines, they also offer various tapas dishes that are paired with their fine wines.
Did we mention that Creation Wines is located in the foothills of picturesque mountains and that you can pick up award winning wines at cellar-door prices? This is one wine farm that's worth the drive out!
Please note that booking a table at Creation Wines is essential to avoid disappointment – especially for the Three Course Pairing Menu or Brunch Pairing. Make your reservation at least 48 hours prior to your visit by contacting +2728-212-1107.