WINE NOT THE WINELANDS - STELLENBOSCH
Posted on Mon August 7, 2023.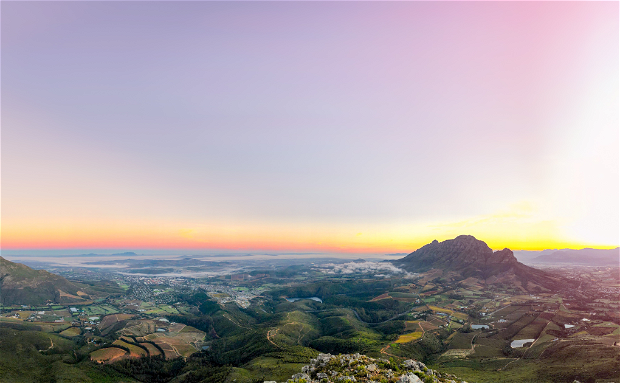 Wake up with vineyard views in spectacular surroundings - the second oldest settlement in South Africa (after Cape Town), Stellenbosch is famous as the capital of the Cape Winelands

Explore Stellenbosch
A charming town in South Africa with a tapestry of rich history and vibrant culture. Positioned in the heart of the Cape Winelands, its oak-lined streets lead to centuries-old vineyards, elegant art galleries, and a captivating fusion of Dutch colonial architecture and modern zest. Known for its natural beauty, there's plenty to do in this picturesque winelands town!



1. Hop abroad a tuk-tuk for a mobile wine tasting - you don't need to worry about driving, as you sample the delights of the region.
2. Visit the Root 44 - a buzzing, recently renovated, market surrounded by scenic vineyards with artisanal food stalls and wines from the region, complimented by live music keeping the good vibes flowing. 
3. Hike in Jonkershoek or Helderberg Nature Reserve - outdoor enthusiasts, this one's for you! Jonkershoek is particularly known for it many rockpools and waterfalls. Helderberg boasts oceanic views of False Bay and beyond.
4. A town tour by bicycle - cycle around South Africa's second oldest town where you'll pass magnificent buildings steeped in history and a cellar tour.
5. Wine and dine in town - tantalise your tastebuds with delicious South African cuisine at one of the many al fresco style restaurants nestled under the ancient oak trees on the bustling streets of the town. 


Book one of our magical Cape Town villa stays in this region:
Garden Villa
We tend to like a neutral palette - an easy pleaser - but every now and then we encounter a designer with a fearless ability to make a bold statement, and - POW! - we lose our hearts to colour. Sue and Bernard Fontannaz have spent two decades turning their elegant Cape Dutch manor house into a richly textured home, every room luring you in to the next. It's a delightful journey of discovery, right through to the magnificent garden - a playground for adults and children alike. Nestled in Stellenbosch's lush, tranquil Devon Valley, this villa stay is a discovery for all the senses.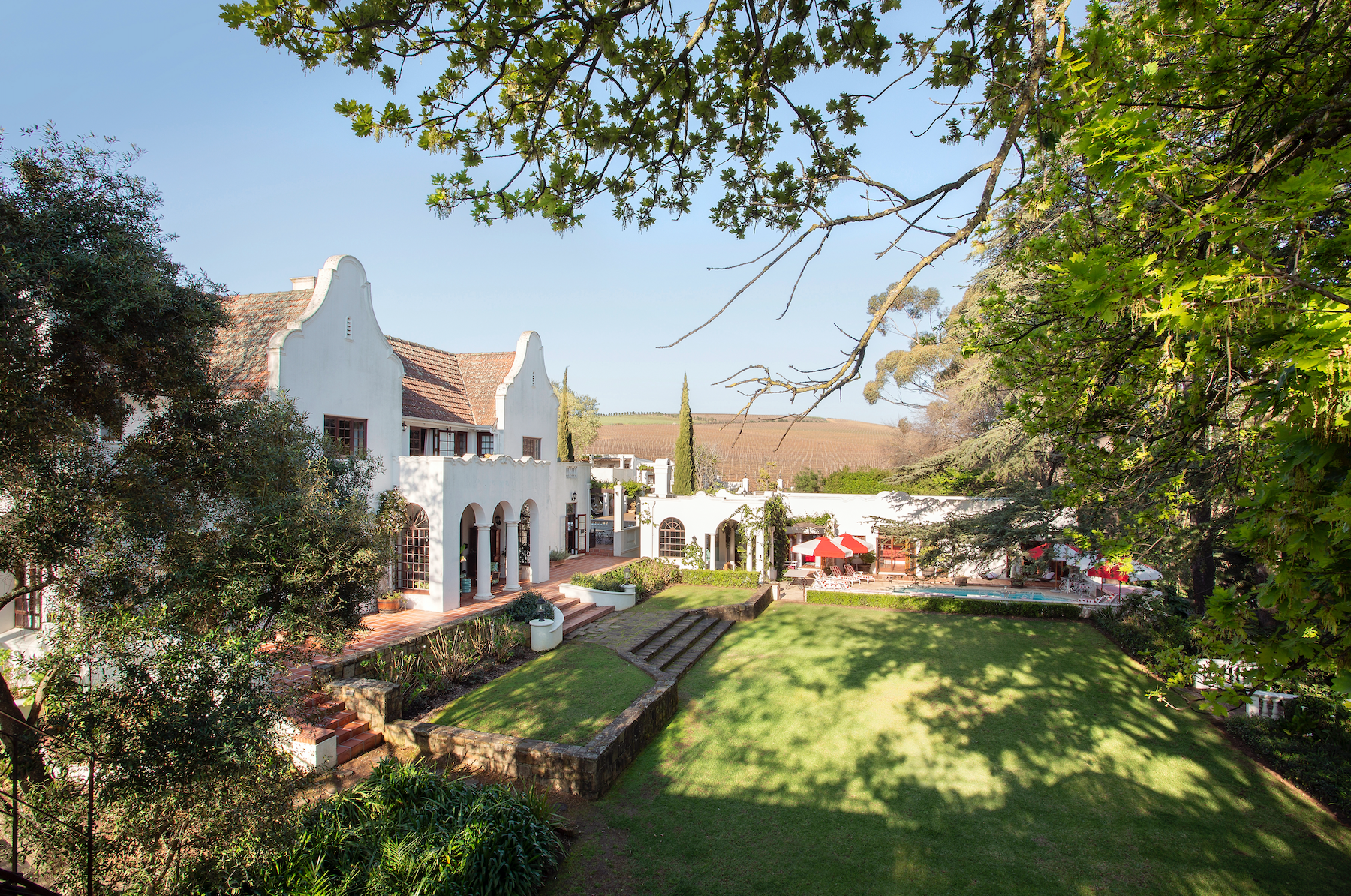 Die Wijnhuis
Located in the breathtaking Banghoek valley, Die Wijnhuis is a sanctuary of refinement, where villa living meets secluded tranquility. This enchanting villa seamlessly marries the past and present, offering an exquisitely modernised interior while whispering stories of its 200-year-old heritage through its timeless Cape Dutch architecture. Ideal for families or groups of friends seeking luxurious comfort. This villa is cocooned by rolling lawns, pristine gardens, olive groves and vineyards. Its elegant verandas stand as veritable works of art, perfect for both sophisticated gatherings and moments of quiet contemplation. Beautiful verandas serve as stylish areas to entertain or relax. An exquisite swimming pool and private gym caters for both leisurely and active pursuits.


Helderberg Manor House
This villa is something completely different. Originally constructed in 1838, the historic farmhouse has been renovated with modern conveniences while preserving the serene elegance of yesteryears, all shaded with the tranquillity of age-old oak trees. With five en-suite bedrooms furnished with luxury linens, spacious family rooms that recall the pace of a slower mode of life, the house still charms with the private chef, dedicated full-service butler, secluded swimming pool, membership privileges and warm and friendly service that is the hallmark of the Estate.

Beyond Mountain House
About 15 kilometres from the historic town of Stellenbosch, on the slow, leisurely road that meanders toward Somerset West, lies an oasis that is as peaceful and as tranquil as it is in unison with its surrounds. It nestles, in cozy comfort, against the lower slopes of the magnificent Helderberg mountain, embracing breathtaking views that stretch across the width of False Bay to the furthest-flung beacon that is Table Mountain.
Enter a world of opulence and space when stepping in this 3-bedroom villa - a generously proportioned villa with sweeping views to the eastern and northern areas in front of the Helderberg. The welcoming entrance hall leads to a spacious and inviting veranda from where one can enjoy the views over Yonder Hill farm towards the winery. A place where every sigh of the wind and rustle of the leaves orchestrate a symphony of calm.


Olive Rest Cottage
The quaint Olive Rest Cottage is a charming cottage that features three en suite bedrooms, a cosy lounge with open plan kitchen and a patio leading from the kitchen/ lounge, with exceptional views towards the Helderberg as well as a spacious garden. Alternatively, should you be looking for a larger option, book BOTH VILLAS together for an exclusive 6-bedroom getaway!

Make the most of a prolonged stay; Beyond the Mountain and Olive Rest Cottage are both available on a Stay 5 Pay 4 special offer (get 3 bottles of Yonderhill Wines included).



The Helderberg Garden
Nestled within a serene sanctuary, the garden villa, graced with two en-suite bedrooms, extends an invitation to couples and small families seeking refined seclusion. Contemporary and stylish elegance harmonises with timeless, quality hospitality, where spacious living areas foster togetherness. A modern kitchen caters to culinary explorations, while a private pool offers tranquil respite. Service takes a front row seat, with a dedicated butler and private chef ensure ultra-comfort without living a finger. The essence of luxury threads through each detail - from fine linens to meticulous finishes. At the Garden Villa, craftsmanship and convenience intertwine to creative refined living.

Helderberg Endless Views
This villa, with its four en-suite bedrooms, stands as a testament to lavishness. From its expansive windows, the view stretches to Cape Point on the clearest days. This retreat, spacious enough for multi-generational gatherings, effortlessly combines luxury with coziness. A fireplace in the lounge lends itself to evenings of board games, while oversized rain showers delight the younger ones. The kitchen's woodfire braai becomes a magnet for the gang to get together, and the patio's pizza oven hosts a backdrop for cheerful cocktail hours beside the private swimming pool. A thoughtful welcome basket, a dedicated butler, and a private chef set the tone for convenient luxury, while access to the members-only wine tasting at the cellars adds a quality stamp on an exclusive Cape holiday.

The Homestead
This villa offers families or a group of friends a luxurious and intimate escape in the Cape winelands. Guests at The Homestead also enjoy dedicated butler service, curated art tours by the Marvol Gallery, complimentary access to the Wonderdal kids' experience, and a tasting experience in the Wine Lounge. Guests can also explore the estate's exquisite culinary, cultural and family experiences or tee off at Hazendal's World-class golf facilities. The Homestead is located between Cape Town & Stellenbosch, ideal for leisure travellers wanting to explore these vibrant cities.

So, go on, win(e)d down and enjoy the tranquil indulgence Stellenbosch and its surrounds have to offer.

With love from, 
The Icon Villas Team