Fight Night in Cape Town (calling all voyeurs)
Posted on Sun August 29, 2010 in
Blog
.
I'm not traditionally a big one for sports voyeurism. My motto has long been that if you're watching rather than participating, you're simply sitting on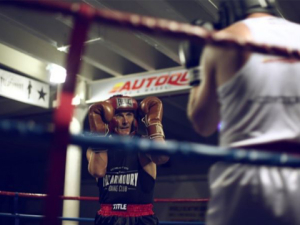 I'm not traditionally a big one for sports voyeurism. My motto has long been that if you're watching rather than participating, you're simply sitting on your backside, getting fat. When I travel abroad, however, I make efforts to check out sports that aren't typically available back home. Baseball in San Francisco was an anthropological study in hotdog and beer consumption, whilst wrestling in Mexico City was about spandex, raging fans, and brilliantly unhinged comic bravado. Aussie Rules Football in Melbourne was fast, furious, and beautifully dexterous. I'm not convinced too many people understand the rules, however. Then, of course, the World Cup came to Africa, and I became a football fanatic. Not the crazy, screaming, vuvuzela-blowing kind, but the sort who virtually drools at the deftness and balletic beauty of properly engineered soccer action. My favourite team won, and in tribute to Iker Casillas and his team, I finally started Spanish lessons (with an Argentinean who's fallen in love with the city).
In a bid to prepare for summer (and hopefully look more like a world class footballer), I've signed up for a winter trail running series that combines some agonising hill climbs with some mindblowing scenery. The pain is definitely worth the opportunity to run in some of the Cape's most mesmerising landscapes. August's first run—a challenging-but-rewarding 14.3km—took place on the Paul Cluver wine estate in Elgin (just over an hour from the CBD). It was like running through a Hollywood dream sequence, complete with fairytale forests, watery dells, and gentle streams that we crossed with footbridges. In the spirit of a fun day out, the "race" was capped off with wine-tastings. But trail running only really takes care of my Sundays, and it's definitely not a spectator sport. Which brings me back to my voyeuristic quest for things physical. Of all things, it was an invite to a "Fight Night" that caught my attention.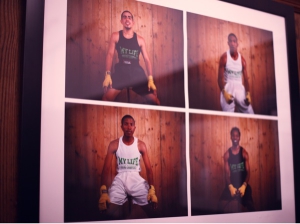 The Armoury Boxing Club in Woodstock opened just a few months back and has rapidly caught the attention and imagination of all kinds of Capetonians— scenesters and socialites rubbing shoulders with boxing aficionados, and pre-teen kids cheering wildly alongside women averting their delicate gaze from the pounding blows and uppercuts being delivered in the ring. No Fight Club¬-style underground bunker room—this is a venue where vintage upholstery meets exposed brick, where sophistication and sweat are allies. Armoury is a fitness gym, first and foremost, but with boxing as its training fulcrum, it also offers opportunities for boxers to engage in real physical bouts in front of a paying crowd. And what a crowd it was last Friday night.
The event was standing room only, but a surprising mix of Capetonians turned up, having travelled from all sides of the invisible divides that seem to ensure that Cape Town remains a city of tribes. Hell, there was even a Jo'burg-based world title-holder in attendance on Friday, and the organizers had two bars and a DJ to give the event that typically Cape Town party vibe. Gorgeous "ring girls" in gold lamé dresses held aloft Moet-branded cards at the start of each round; chisel-jawed referees in white collared shirts and latex gloves took charge of the action, and the trainers manning the corners were the real deal, wiping away blood and sweat, fanning their fighters with towels while feeding them advice. A tuxedoed MC kept the evening running at a smooth pace, and the DJ made sure that each fighter had his own theme tune.
For men and women sheltered by the safety net of contemporary urban living, the opportunity to face off against another human being with nothing but your gloved fists , is surely a portal to an altered consciousness. For participants (men (gentlemen, really, from the business, media, academic and entrepreneurial sectors), it's a chance to let go completely, to express impulses that are usually repressed. I'm told that the urge to fight—to act on some kind of mano a la mano violent tendency—is as natural as sex and laughter.
Whatever, it's heartstopping, compulsive entertainment. I don't think you can watch a boxing match without experiencing some level of transcendence. The air all around you is alive, so taut, in fact, that you feel each and every blow. It's about giving and receiving fistfuls of power, and the repeated thrusting, ducking, reaching and all-round butterfly-like dancing is exhausting. And at the end of these fights—three rounds of three very long minutes—no winners or losers are declared. They say the fighters know who's come out tops; it's White Collar Boxing, and it's a gentleman's game. They know full well that they've stretched themselves in ways few urban executives ever get a chance to these days. It's Tyler Durden without the slightest hint of insanity.
Well, maybe just a little.
I didn't hang around for the after party at neighbouring La Bottega, but judging from the swiftness with which the crowds rushed over there after the Fight of the Night had been announced, I can only imagine it was a rip-roaring blast.
Armoury's Fight Nights are set to happen every three months, and Steve Burke, the club's buff-as-hell co-owner (who fought on Friday and had everyone whispering "He can't be 49; he doesn't look a day over 32") tells me there'll be a few ladies' fights when the next event rolls around in October. I'll be making every effort to be ringside; you too can follow developments at www.armouryboxing.com.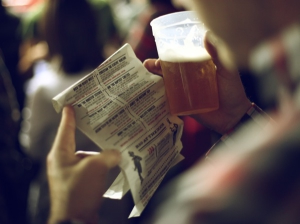 Armoury occupies a prime spot in the Buchanan Square development in Woodstock, the up-and-coming part-industrial part-Victorian neighbourhood to the east of the city centre—a great place to discover an alternative to the over-hyped view of Cape Town that you'll find in the brochures and guidebooks. Woodstock has emerged as ground zero for discerning art collectors looking for newcomer talent in some of the city's top art galleries (Michael Stevenson and Whatiftheworld being the two most worth visiting). And, of course, even the biggest snobs will tell you that it's here that the city's loveliest, liveliest crowd gathers at the converted Old Biscuit Mill, either to pig out at the Saturday morning food market, or search for original designer clothes, and crafts that'll one day be sought after collectibles. You also get the most fantastic cup of java here, but this remains a bit of a secret: It's called Espressolab, and it's where the zestful attitude and strong, aromatic coffee flavours are right on the money; it's well hidden, though, so make a point of asking for it when you arrive at the Biscuit Mill complex—it provides the perfect pick-me-up after trawling through the many wonderful stores that are now located in this once forgotten corner of the city.