International Recognition
Posted on Wed July 29, 2009 in
News
.
Cape Town based Icon Villas received a significant international accolade with its selection as the first Villa Rental Specialist in Southern Africa to be endorsed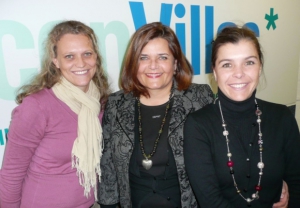 Cape Town based Icon Villas received a significant international accolade with its selection as the first Villa Rental Specialist in Southern Africa to be endorsed by Condé Nast Traveler USA.
Announced in the June issue of the magazine, Icon Villas was voted one of only 49 Villa Rental Specialists across the world, and only the second in Africa (the other is in Morocco), to be appointed as a Condé Nast Traveler Villa Rental Specialist for 2009.
Therese Botha, the owner of Icon Villas says that despite the depressed world economy, business has been picking up from the US market. 'Whilst bookings from Europe are slower this year, we're definitely seeing increasing numbers of enquiries from North America, and in line with the current global trend, many of those are in fact last minute bookings.'
Botha says that worldwide, Villa Rental Specialists agree that year on year, there is an ever-increasing interest in villa stays as an exclusive alternative to standard hotel accommodation.
'The question that begs to be answered, is whether villa stays are becoming more popular despite the global recession, or perhaps because of increased financial pressure, in that it provides excellent value as a luxurious accommodation option for families and friends traveling together.'
'We are thrilled with this prestigious honour from Condé Nast Traveler that recognizes not only our service and expertise, but also the high standard of properties we represent. Americans are known to use Condé Nast Traveler listings and awards extensively as a guide when planning their travels, and we therefore look forward to growing our American market even further, thanks to this important endorsement', she concluded.
Within Icon Villas and its specialist Allure Collection, Botha's collection includes 120 privately owned 'handpicked and gorgeous villas', as well as 100 other upmarket properties, penthouses and apartments. These were all selected to exceed the expectations of discerning guests who demand luxury, privacy and seclusion, and 'exclusive-use' of a beautifully designed and equipped, special home – in a prime location.
Latest additions include the historical Vrede & Lust Manor House in the Winelands between Paarl and Franschhoek, and Villa Ava, a stylish beachside property on Camps Bay. Other popular villas include award-winning architecturally designed flagship properties Bridge House and Tree House in the Cape Town City Bowl, and several villas on some of the country's top golf estates. It has also recently started expanding its portfolio into Kwazulu Natal.
Always innovative, Icon Villas has been at the forefront of the development of the villa product in South Africa, and has for instance, introduced a comprehensive Concierge Service to meet the needs of its villa guests. Concierge Services include catering, housekeeping, child-care and babysitting, as well as bookings for restaurants, theatre, sports and sightseeing tours.
Icon Villas recently introduced a groundbreaking blue print for villa accommodation, which compiled against stringent criteria, has set a benchmark with such meticulous detail that it allows Botha and her small team  of seven, to handpick only the very best properties for their Icon Villas and Allure Collection.
First established in 1997, Icon Villas recently entered a new era when it started working closely with some of the world's top tour operators. These include Kuoni Travel, one of the UK and Europe's leading luxury travel specialists and multiple award winner as Best Tour Operator, with whom it will be releasing a joint brochure towards the end of the year.