Paradise Discovered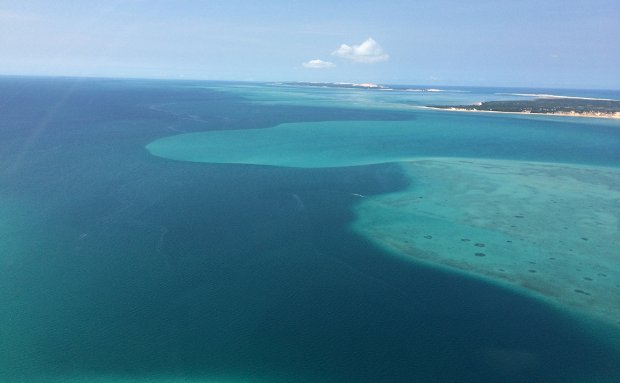 There is a moment, after unending similar grassy plains, that you glance out of the aeroplane window and realize you have entered paradise. It's a
There is a moment, after unending similar grassy plains, that you glance out of the aeroplane window and realize you have entered paradise. It's a moment that takes your breath away. Literally. Especially when it's your first experience of this indescribable beauty.
This is my first flight into Vilanculos in Mozambique and this is the moment it hits me that I'm entering paradise. As the Reservations and Marketing Manager at Icon Villas I was given the opportunity to pop off to Azura's Benguerra Island resort for a couple of days to gain some first-hand experience. It was a brief but memorable trip that has left me wanting much more.
I was panicking about the helicopter transfer from Vilanculos to the island as I have a teeny tiny fear of heights. I had absolutely nothing to worry about. Pilot Isaac, who reminded me of the helicopter pilot in Magnum PI (remember that series?!), gave me reassurances that turned out to be absolutely accurate. The flight is not only breathtaking, it also gives a superb overview of your location. All too soon you are landing at Azura and being greeted by the first of the many friendly faces you will encounter during your stay.
Azura forces you to stop. Breathe. Exhale. It gives you a sense of peace and calm from the moment you arrive. You find yourself standing on the deck of your private villa just watching and listening to the waves that are mere metres away from you. You long for more time to while away the hours in the idyllic setting of your private sala, where you lie under thatch planning to read but simply getting lost in the view.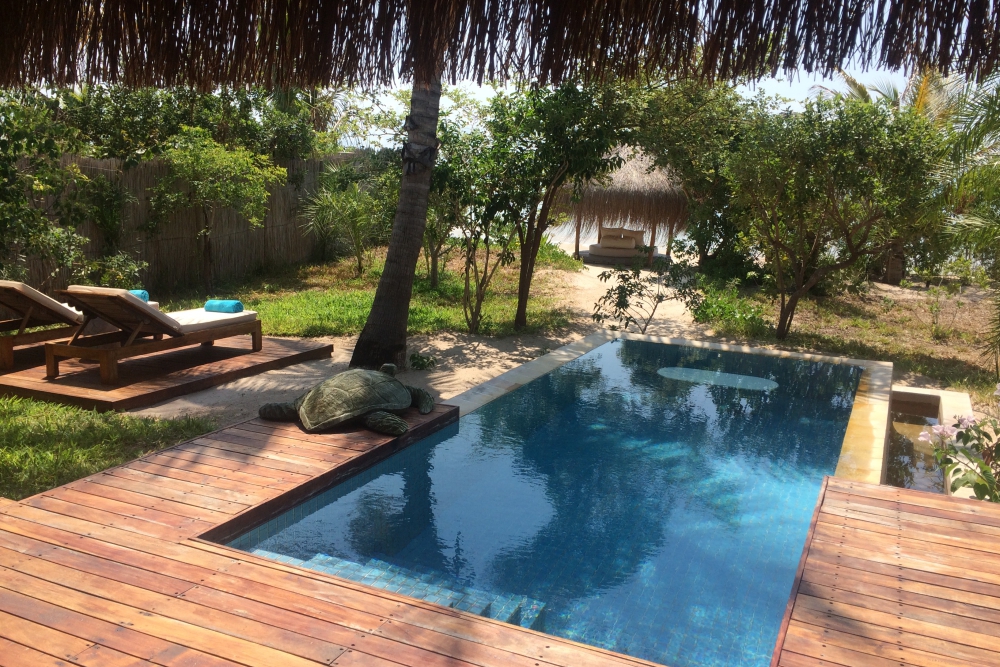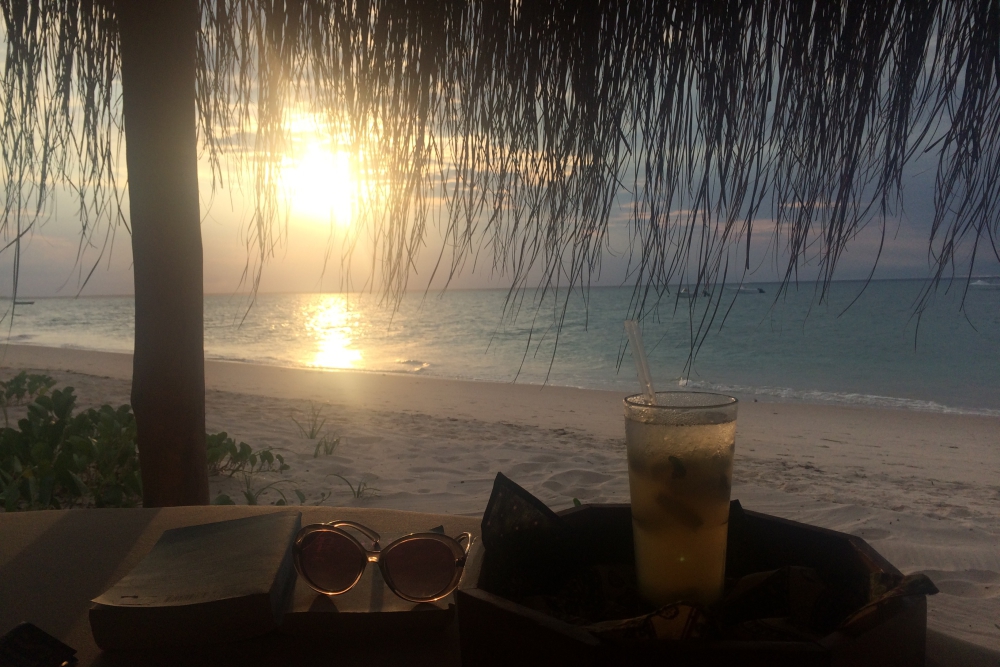 The choice of activities is plentiful. I had my first snorkeling experience, something that is hard to describe in a way that does it justice. It was like finding yourself as part of the cast of "Finding Nemo". Two Mile Reef becomes your personal aquarium filled with colours and wonders. Watching a turtle dive into the coral, calmly look at you within touching distance, and then almost shrug his figurative shoulders before reverting his focus back to the far more interesting coral makes you gasp. I encountered this with a friendly Brazilian couple with much more diving and snorkeling experience than I and we all left amazed at all we had seen. Our fantastic instructor, Eric, was incredibly patient and kept me afloat while constantly pointing out more and more amazing sights. One important thing to remember when snorkeling is to apply more sunscreen than you think is necessary to every part of the back of your body, as you are pointing that section directly at the sun for a very long time. It was a painful lesson to learn.
Meals at Azura are relaxed and delicious. My butler host, Gregorio, was always waiting for me as I arrived at the main lodge, to make sure that I have everything I need and to offer up advice on my drinks and meal choices. The service is never intrusive but always available with a friendly "bom dia" and "obrigado".
The management and staff in this piece of paradise take pleasure in special surprises. I had personal messages in my butter, dinner in a different setting each evening, and arrived back from my sunset dhow cruise to see Gregorio, my butler host, sneakily setting up a private beach bed for me from where to enjoy my sundowner cocktail and the rest of the glorious sunset.
Azura isn't all about luxurious paradise living. There is a heartbeat here for the community, the surroundings, the culture. Chat to most of the friendly staff you encounter during your stay and you will find that many have lived on the island all their lives. They are happy to share their culture with you, to explain what life is like here. There is also the opportunity for an island tour that is rich with entertaining information and takes you to look for crocodiles (at a safe distance), to a dune climb with a view that is worth every bit of effort, through the village, and to the school built by Azura. You find yourself leaving with so much more than you expected. With a passion that stretches beyond the sunsets and the warm sand to the island and the community beyond.
Since my return to reality these are the things I miss: my luxurious villa bed with the romantic mosquito net draped around it; wallowing in my private pool; wandering along the beach and through the incredibly warm waves lapping at the shore; getting into Tsoro (a traditional African strategy game for two players) battles at the bar before dinner; and so much more!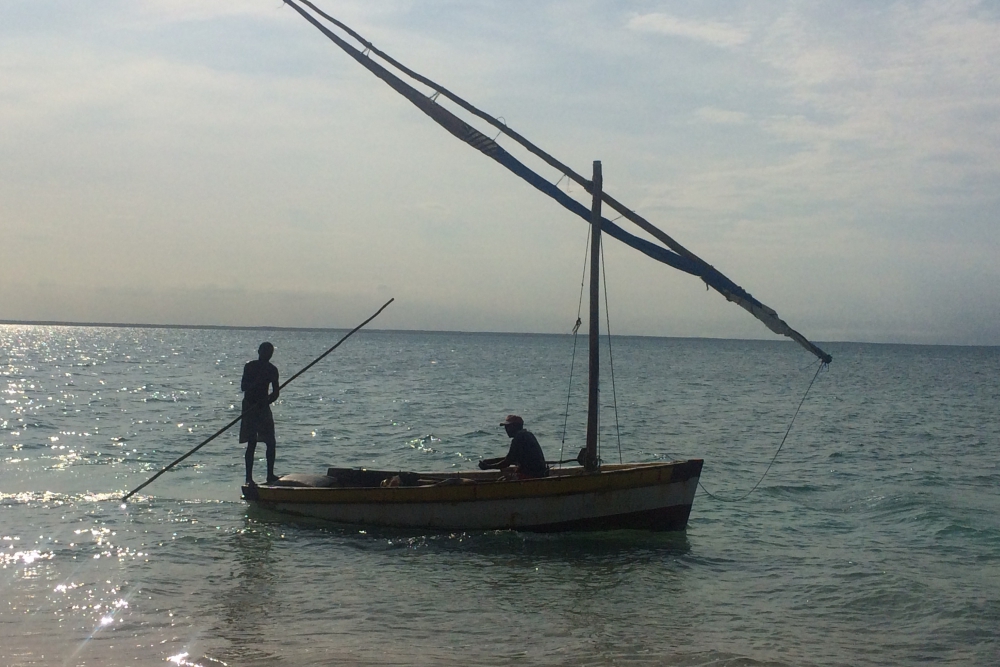 Azura is a blissful memory that I long to experience again. If you are tempted by this paradise, then contact us for some superb specials for the two exclusive villas, Villa Amizade and the Presidential Villa.